The Wedding
Saturday, September 4, 2021
5:00 PM - 11:30 PM
Attire: Formal
Ceremony and Reception
Pine Knob Mansion
5580 Waldon Road, Clarkston, MI, 48348, United States
Carolyn and John will exchange vows in the gardens of the Pine Knob Mansion at 5:00pm. Immediately following the ceremony, please enjoy a cocktail hour with butler passed hors d'oeuvres inside the Mansion. Dinner will be served in the main dining room at 7:00pm with dancing to follow. Thank you for your ongoing love and support. We are so excited to share this day with you.
Our Story
How They Met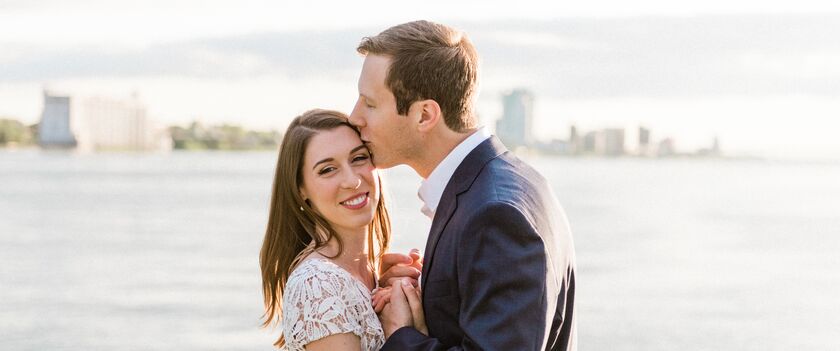 John and Carolyn both climbed regularly at Planet Rock Climbing Gym in Madison Heights, MI. John had been a climber throughout college with the climbing club. Carolyn had recently begun climbing with some friends from work. Carolyn first noticed John when she was climbing on the auto belays and John clipped into the route next to her. Carolyn thought John was cute from the first time she laid eyes on him. John was laser focused on climbing so he was pretty oblivious to all of this.
Over time they began to recognize each other being at the gym quite often. Luckily, in came the help of an online dating app to get John and Carolyn talking. They messaged each other about climbing and set up times to meet up and climb together. Carolyn was (of course) running about 10 minutes late the first time they arraigned to climb together but John quickly forgave her. They worked well as climbing partners and instantly became good friends. John realized how special Carolyn was as they spent time together. Everything began to click when they shared their mutual love of their cats, traveling, and spending time outdoors. After climbing together a few times, John mustered up the courage to ask Carolyn to dinner.
They began their first official date meeting at John's apartment. Carolyn arrived punctually this time and even brought John a bottle of wine. John met Carolyn at her car with an umbrella in the rain to walk her inside when she arrived. John had his cat, Theodore, in a bowtie "for good first impressions" and had made brownies for dessert. They went out to an Italian dinner at Alfoccino's. They talked about everything at dinner. Goals, dreams, beliefs and they seemed incredibly in sync. Time spent together seemed to fly by. They went on several more dinner dates within days of their first date. John finally asked Carolyn to be his girlfriend on October 10, 2016.
How He Proposed

John and Carolyn hosted the McLean Christmas celebration on Christmas Eve 2018. On Christmas Day, after Carolyn's parents had left for Cincinnati, John had left a big box wrapped up with a bow in the middle of the living room floor. Carolyn came out of the bathroom in her bathrobe, found the box, and wanted to open it. John asked "Are you sure you want to open it now?" Of course, Carolyn did! She opened the enormous box and was confused to see it was not the food dehydrator she had wanted for Christmas, but it was a decoy box! John had a bigger surprise up his sleeve. In the living room of their home, John got down on one knee and asked Carolyn to marry him. Even though Carolyn had her bathrobe on, and John's camera timer missed the photo (thank goodness), it was a perfect proposal for them.
Wedding Party
Krista W. - Maid of Honor
Carolyn met Krista in the Intro to Design class her first semester at MSU. Today, Krista works in as an Art Director and lives in Royal Oak, MI.
Krista S. - Bridesmaid
Krista and Carolyn met when they were 10 years old in 6th grade. Today , Krista works for Ford and lives in Allen Park, MI.
Kelsey - Bridesmaid
Kelsey and Carolyn were roommates during her Junior and Senior year at MSU and shared several classes. Kelsey works as a Designer and lives in Charlotte, NC.
Sarah - Bridesmaid
Sarah is John's older sister. Sarah is the mother of Emmett, Grace, and Katelyn and lives in Whitmore Lake, MI.
Gracie - Flower Girl
Gracie is Carolyn and John's niece. She is four years old and enjoys playing dress up, dancing, and singing.
Katelyn - Flower Girl
Katelyn is Carolyn and John's youngest niece. She is two years old and enjoys playing with her siblings and dancing.
Nigel - Best Man
John and Nigel met though ΔTΔ at Kettering. Nigel likes to travel and toy with his Jeep. He works as an Engineer for Chrysler and lives in Canton, MI.
Jacob - Groomsman
Jacob is John's little brother though ΔTΔ at Kettering. Jacob and John climb and travel together regularly. Jacob is an engineer for Formsprag and lives in Warren, MI.
Jonathan - Groomsman
Jonathan is Carolyn's younger brother. He enjoys fishing, riding his dirt bike, and barbecuing. He recently started a small business called CleanScape Property Services and lives in Whitmore Lake, MI.
Mike - Groomsman
Mike is John's brother-in-law. He is the father of Emmett, Gracie, and Katelyn. He loves board game nights, being at home with his family and going to church.
Emmett - Ring Bearer
Emmett is John and Carolyn's 7 year old nephew. Emmett plays hockey, and does martial arts. Emmett is good at doing puzzles and playing with his siblings.